Type:Goldendoodle
Age:  3 Years Old
Sex:  Male
Size:  45 lbs.
Color:  Black
After the groomer had no choice but to shave Dewdles completely down because he came to us so severely matted, he feels (and looks) like a new dog.  We didn't even recognize him!  He's happier and much more comfortable.
Dewdles is a 3 year old black goldendoodle.  He weighed 44.6 lbs.–before losing all that hair.  Everyone agrees, including the groomer, that he's a super sweet guy. 
He was originally purchased from a breeder in Georgia and his prior family felt like, after changes in their life, he deserved more attention than they have been able to give him.  They said Dewdles is good with children and adults alike, as well as both dogs and cats.  Since he's been at the shelter, he's been friendly and affectionate and is so grateful for the love he's getting. 
Dewdles tested negative for heartworms, has been brought current on vaccines, put on monthly heartworm prevention, and we recently had him neutered.  To adopt this perfect doodle, review our policies and submit an application for lovable Dewdles.
Arrived:  May 28 2022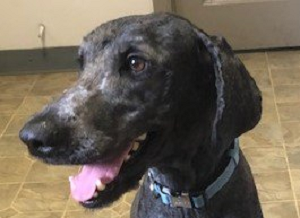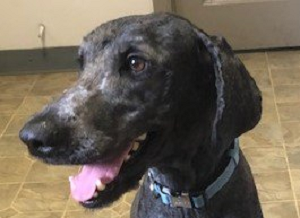 Complete Adoption Form For This Dog